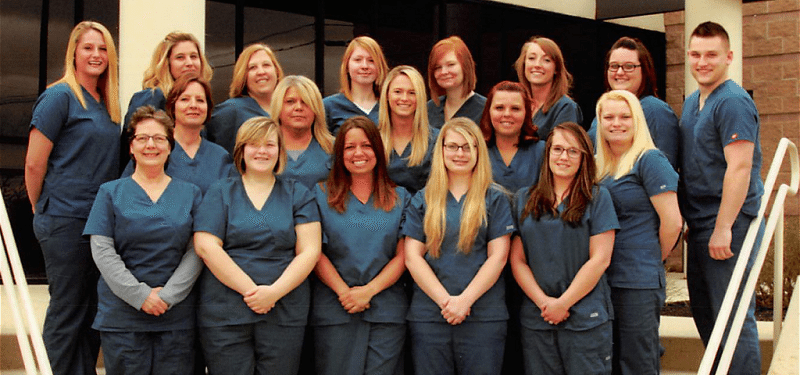 Program Description:
If you are interested in healthcare, but unsure of exactly which healthcare field to enter – this is the program for you! The Patient Care Technician (PCT) Program provides insight into patient care, medical office and ancillary services, such as EKG and Phlebotomy. The Patient Care Technician certificate program prepares individuals for an array of job opportunities in the health care field. Graduates may find employment in long term care facilities, hospitals, physician practices, laboratories, and clinics where basic bedside nursing skills are required, as well as the skills of phlebotomy, coding, billing, and performing electrocardiograms (EKG). As a completer of the program you will have developed skills in 3 key areas of the health care field; Patient Care, Medical Clerical, and Clinical Ancillary Services, along with a core group of classes.
For those considering entering the Practical Nursing program, the PCT program has all the required prerequisite courses.
Upon successful completion of the program, the following certifications are available including:
STNA from the Ohio Department of Health
National Healthcareer Association (NHA) – one or more certifications can be obtained

Certified Patient Care Technician
Certified EKG Technician
Certified Phlebotomy Technician
Certified Clinical Medical Assistant
Certified Medical Administrative Assistant
Certified Billing and Coding Specialist
Certified Electronic Health Records Specialist
Length of Program:
The PCT Program is approximately 8 ½ months long.
Pre-Requisites/Requirements:
No prerequisites
Application Deadline: August 1
Cost (subject to change):
$2,120/quarter tuition
$95 application fee
$175 lab fee
$200 admission fee
Total Tuition $8950.00
How to Apply:
Call or email  to request an application packet.
Contact for more information:
Billie Fields-Baer—MSN, BSN, RN, CCMA,CPT,CET
Patient Care Technician Program Coordinator
Email: bfieldsbaer@tririvers.com
740-389-4682 ext 5509